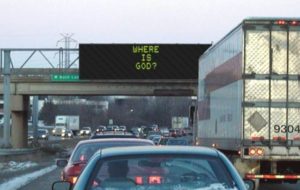 Romans 8:38-39

For I am persuaded, that neither death, nor life, nor angels, nor principalities, nor powers, nor things present, nor things to come,

Nor height, nor depth, nor any other creature, shall be able to separate us from the love of God, which is in Christ Jesus our Lord.
The news is full of bad news, talking of sickness totals, of numbers of deaths, of a worldwide pandemic. There are restrictions on where you can go, who you can be with, and even when you can leave your homes. Basic supplies are hard to find, people having to line up to get even the most common items. Businesses are shut down, people are laid off, there seems to be no sight of the end.
Some people might ask – Where is God in all this? They think of God as One who is there in times of peace but not times of war, in times of health, but not sickness. But they are making an error in thought. The history of humanity is full of ups and downs, of hate and sickness and death. There has always been conflict. The results of sin entering the earth are everywhere to be seen throughout history. You cannot escape it. It may be worse today, but it is always present.
Where is God? He is where he always is, on the throne. He does not go away when times get tough, His love is still there. He is in the sunshine and the storm. He is there when we are well and he is there when a virus strikes. He is there in life and He is there in death. He desires our love now more than ever. He is as available now as He was before. He is still preparing a place for us. Jesus is still interceding for us with the father. The Holy Spirit is still indwelling us, convicting us of sin, as well as being our comforter, enabling us to live a Godly life. God is where He has always been.
The question is better asked, where are we? Are we still in the word? We may not be able to attend church together, but we can still spend time with the Lord, we can still pray. We can still sing His praises. May we use this time to not ask about God's whereabouts, but to ask how we can draw closer to Him.
---