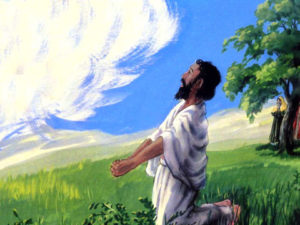 Job is one of the more famous persons in the bible. Most people have heard the story of Job, or at least have an idea of what the book is about. We are told that Job was "blameless and upright, one who feared God and shunned evil". He was a Godly man. A very Godly man. Job was also very wealthy. The bible tells us that he had 7000 sheep, 3000 camels, 500 oxen, 500 donkeys, and a very large household. Job was the wealthiest man of his time and perhaps of any time. The bible also tells us that Job offered sacrifices for his children, in case any of them had sinned.Truly his faith was a great as his wealth.
Then according to the story, that all changed. God allowed Satan to test Job, to test Job's faith. In one day, the Sabians came and took his oxen and donkeys and killed his servants. Fire came from heaven and killed all the sheep and those servants. The Caldeans came and took all the camels and killed all those servants. And finally, a great wind came and blew down the house, killing all of Job's children. Job had lost everything in one day. What was his response? Job 1:20-22 tells us,
Then Job arose, tore his robe, and shaved his head; and he fell to the ground and worshiped. And he said:
"Naked I came from my mother's womb,
And naked shall I return there.
The Lord gave, and the Lord has taken away;
Blessed be the name of the Lord."
In all this Job did not sin nor charge God with wrong.
I don't know about you, but I know it would have been hard for me to be like Job.
But Satan was not done. He caused Job to have boils from the sole of his foot, to the top of his head. They were so painful that Job sat on an ash heap and scraped them with a piece of broken pottery. His wife came and told him to curse God and die. But in Job 2:10 we hear Job's response
But he said to her, "You speak as one of the foolish women speaks. Shall we indeed accept good from God, and shall we not accept adversity?" In all this Job did not sin with his lips.
Then Job's friends come. Instead of offering comfort, they begin to blame Job for his troubles, telling him that it is all his fault, because of his sin.
Job has lost his wealth, his health, his children, the faith of his wife and the trust of his friends. He has seemingly lost it all. But in Job 13:15-16, we hear Job say,
Though He slay me, yet will I trust Him. Even so, I will defend my own ways before Him. He also shall be my salvation,
Job, in spite of all his loss, still had his faith. He still had the Lord. He still knew the future. Job says in Job 19:25-26
For I know that my Redeemer lives, And He shall stand at last on the earth; And after my skin is destroyed, this I know, That in my flesh I shall see God
In this time, when we can't meet together as a church, when we are forced to stay in our homes, when even the bare necessities are hard to come by, we still have the Lord. His salvation still holds. His word is still true. His second coming is still sure. We have great things for which to rejoice. Don't get bogged down in the mire of life, but trust in the Lord. He will see us through this pandemic. As we stay at home, let us develop the patience of Job and see what great things He will do. In the story of Job, God blessed the later days of Job more than the early days. In the end, Job had twice as much as he had at the beginning. What will God do for us if we stay faithful. I can hardly wait to see.
---