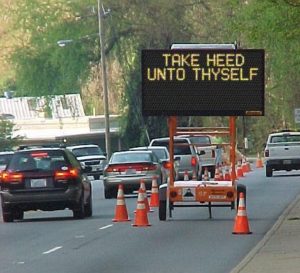 I Timothy 4:16 – Take heed unto thyself, and unto the doctrine; continue in them: for in doing this thou shalt both save thyself, and them that hear thee.
Timothy was one of the "preacher boys" of Paul, one trained under his ministry and influence. Preaching doctrine was essential. But we want to look at the first part of Paul's admonition to Timothy, "Take heed to thyself". Many years ago, a pastor said there were three parts to this admonition.
First, take heed unto your speech. In times when we are away from church and the fellowship of other Christians, there is a danger that we will fall into the trap of becoming more like the world which surrounds us. Perhaps the first thing that goes is speech. It is human nature to speak like those around us. We want to fit in, we want others to like us. So we begin to speak like those around us. For many of us, we still go to work every day, but we aren't balanced out by the fellowship of being in church and around other Christians. When Christ was arrested and the Peter ran away, other people knew he was with Christ, because they said – "thy speech betrays thee". They were probably talking about his accent, but as Christians, our speech ought to betray us. We ought to speak like Christians. Don't let this time away from Christian fellowship allow your speech to become more worldly.
Second, take heed unto your conduct. This is probably the second thing that goes after speech. We begin to talk like the world, then we begin to live like the world. We need to always be careful of how we act in the world, of the places we go in the world. We should always reflect Christ in our actions. People ought to see a difference in us, something that makes them want to be like us. If a Christian is living like the world, there is no difference that draws them to Christ.
Third, take heed to your prayer life ( or spiritual life ). Prayer changes things. Prayer makes a difference. We are told to pray continually, to pray without ceasing. Don't let your spiritual life slip while our churches are closed. Stay close to the Lord, stay strong in your faith. Continue to study your bible. Keep your relationship with Lord as the primary thing.
Take heed to these things and when things return to normal, you will be ready to do great things for God.
---