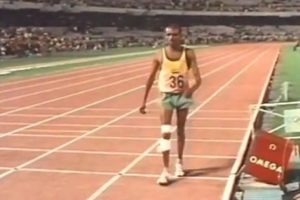 Read 1 Corinthians 9:24-27
The most important thing about running a race is to finish. In 2 Tim 4:7, Paul says "
I have fought a good fight, I have finished my course, I have kept the faith" Having a world record pace ½ way through the race is no good if you don't finish. Having the best looking stride most of the way is no good if you don't complete the race. Our life begins at birth, but our Christian race begins at the new birth, when we get saved. Paul's race began later in life, but he ran his race well and finished the race. In verse 6, he says, For I am now ready to be offered, and the time of my departure is at hand. Paul knew his time was almost up, but he was ready, for he had finished the race. Here are a couple of thoughts about running a race, and finishing a race.
First, in order to finish, you must set the correct pace. If you run too fast – you burn out – and you won't finish. But if you run too slow – you wear out – you also won't finish. Unfortunately, all of us who have been Christians for a length of time have see people who are on fire for God, get involved in everything, seem to go 24 hours a day for the Lord, but then stop and fall away. They left no room for anything else, no rest, no family, sometimes not even any alone time with the Lord. We have also seen those who do very little for the Lord, don't seem to want to get involved, don't have any fire and then they just fade away.
Second, we must realize that everyone has a different pace. God gives everyone talents and abilities suited to them. What one can do another may not be able to do. Not everyone can be a teacher, not everyone can be the pastor, not everyone can sing. But everyone can pray, everyone can be a witness, everyone can do something for the Lord. God gives everyone talents so that the body of Christ will be strong and complete.
Third, Pace can be improved with experience. It should increase. You should be doing more for the Lord now, than you were when you were first saved. If you have been a Christian for some time, you should know your Bible better, pray harder and witness more. That is why God allows things to come into our lives, to strengthen us and to help us increase our pace and our ability to serve Him.
---