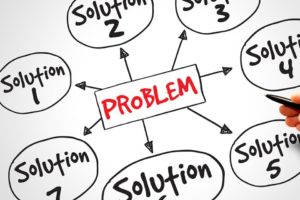 Luke 22:42 – Saying, Father, if thou be willing, remove this cup from me: nevertheless not my will, but thine, be done
Responses to problems
All of us will encounter things in our lives. We will have joyous events, bad circumstances, difficult conditions, and aggravating people. How we respond to these things show our spiritual condition. There are 3 main ways we can react, just as people did in the Scriptures.
We can encounter them in a dull stupor, letting apprehension wear us down. "And when he rose up from prayer, and was come to his disciples, he found them sleeping for sorrow". We can take the attitude that things will be bad, that the worst will happen, that you are bound for defeat. We can have a negative attitude toward things so that when they happen, we almost have no reaction to them. We know in advance that they will defeat us. There is no nervousness because we have already been defeated.
We can run away from them. "Then all the disciples forsook him, and fled." We can do this in our minds as well as with our feet. We can enter each crisis with an attitude of denial – "I refuse to think of this today, I will think about it tomorrow." Fear is one of the most devastating emotions. It can sap our strength, exhaust us. It also can lead to defeat.
We can also take the attitude that Christ took, that each event is a potential victory. Satan determines to defeat us. Christ promises us the victory. The choice is ours. Trust God to go with you to victory. Have an attitude that says "I would not have chosen this path, but now that I am on it, I will not be defeated while God still sits on the throne. I will let God do something for me by traveling this path." God wants to use every event in our lives to draw us closer to Him. This is where we get the victory. Our goal is not money, or power, or fame. Our goal is a closer walk with God.
---