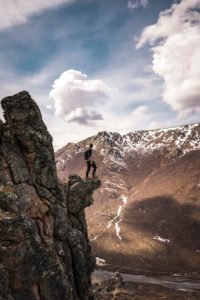 Psalm 61:1- 2
Hear my cry, O God; attend unto my prayer.

From the end of the earth will I cry unto thee, when my heart is overwhelmed: lead me to the rock that is higher than I.
We don't know the circumstances of David's prayer in this Psalm. We don't know if it was during the time of Absalom's rebellion, or some other trial that David was going through. It does appear that it was written after he took the throne. Here David is in great distress, and he goes to the Lord in prayer. Notice that he asks God to not only hear his prayer, but to attend unto his prayer. The word attend here means to incline, or to give heed. David desperately wanted God to focus on his prayer, to answer his prayer. David's heart was overwhelmed, but he knew where to go.
He asked God to lead him to the rock. This is not just any rock. This is not a stone on a high mountain peak, or in a vast desert plain. This is not a place, somewhere that can be found on a map. This Rock, that David so desperately wanted to go to was none other than Jesus Christ. In 1 Corinthians 10:1-4, we read –
Moreover, brethren, I would not that ye should be ignorant, how that all our fathers were under the cloud, and all passed through the sea;
And were all baptized unto Moses in the cloud and in the sea;
And did all eat the same spiritual meat;
And did all drink the same spiritual drink: for they drank of that spiritual Rock that followed them: and that Rock was Christ.
David knew what he needed when he was overwhelmed. He needed something higher than himself. His strength was not enough, he needed the strength of someone higher. He needed someone who can give peace when we are troubled, who can give wisdom when we are confused, who can give hope when all seems hopeless. That someone is Jesus Christ.
There will be times when we are overwhelmed, when the cares and toils of life seem to flood the soul. Perhaps some of us are feeling that way now. The future seems uncertain, normal things are taken away. When we come to those moments, may we be like David. May we cry out to God – "Lead me to the Rock that is higher than I."
---